Resources
Our most valuable resources are our people, contacts, intellectual knowledge and ability to empower through education.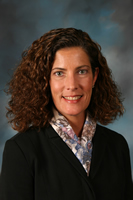 Biography - Louisa Weightman Wright
Louisa is the Founder of Weightman Wealth Advisory LLC, a practice focused on empowering clients with financial knowledge through organization, education and ongoing guidance. She is dedicated to helping individuals and families gain a strong understanding of how all the various components of their wealth work together to accomplish their long term goals. She also serves as an independent overseer and financial advocate, when necessary, to ensure the client's wealth plan is executed in the most advantageous way.
As a third generation family wealth advisor, Louisa is following in the footsteps of her father and grandfather, who both gave highly personalized investment advice to multi-generational families and their related charitable entities. She learned fundamentals about the investment industry, her service standards, and client focus from them. Then she acquired a myriad of other practical knowledge beyond investments in the related wealth management disciplines of estate planning, tax planning, financial planning, cashflow analysis, insurance planning, lifestyle management and family dynamics from other admired mentors in those fields.
Louisa brings over twenty years of experience working in the multi-family office and financial services arena to her current role. She gained her experience most recently at Verdis Investment Management, as well as within Convergent Wealth Advisors (formerly Lydian Wealth Management), Ashbridge Investment Management, Wilmington Trust and Morgan Stanley. She has written articles for AIMR Publications, the Journal of Wealth Management, employer newsletters and been quoted in Forbes magazine. Louisa is a graduate of Trinity College with a B.A. in Economics and The Hotchkiss School of Lakeville, CT.
Louisa lives with her husband, their five children and two dogs in West Chester, PA.
Click Here to download a letter from the Founder
Professional Connections
We have access to experts in the fields of estate planning, tax planning, accounting, insurance, philanthropic giving, and banking/lending for those situations that involve complexity beyond the scope of our own experience. We coordinate with those experts, or outsource projects to them, as necessary or appropriate.
Helpful Links
We have found the following websites to be very useful from either an organizational or educational standpoint. We hope you do too. Please stop back from time to time as we plan to keep adding to this section as we find appropriate new links.
Organizational Sites:
Educational Sites:
Published Articles
"Managing Performance: Monitoring and Transitioning Managers" (AIMR Publications 2002)
"The 'Integration' in Integrated Wealth Management: How Does It Work in Practice?" with Miles C. Padgett (Journal of Wealth Management 2005)